Career Portfolio Kits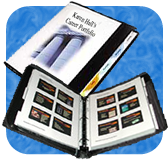 Save time and money! Get all the materials you need to create your career portfolio in once place, along with a workbook, designed to help you track your current skills and abilities.
You can purchase the Kit alone (includes your choice of workbook)
or
Create a Bundle pack by adding a copy of Creating Your Career Portfolio to your kit at a discounted price. You choose which book to add to your bundle pack.
---
Professional Portfolio Kit with workbook
Kit contains:
Zippered 3-ring vinyl binder
30 sheet protectors
Two 5-set tabbed sheet protectors
3 blank business card sheets (10 cards each)
Your choice of workbook:

Career Transitions Workbook
College Prep Portfolio Workbook
Professional Kit (with workbook) – $84.95

---
Career Portfolio Bundle Packs
Save money by bundling a Career Portfolio book with your Career Portfolio Kit.  You get:
Zippered binder with supplies
Your choice of workbook

Career Transitions
College Prep

Your choice of Career Portfolio book

Choose from Student, Professional, or BASICS
Bundle Pack – (book and workbook) – $108.95  

---
 Dietetic Career Portfolio Kits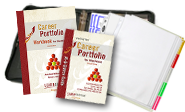 We have a special Bundle Pack specifically for dietitians and dietetic students.   The kit includes the professional binder and supplies and includes the Career Portfolio Development Workbook for Dietitians and Creating Your Career Portfolio At-A-Glance Guide for Dietitians.
Dietetic Bundle Pack – $108.95