Career Portfolio DVDs
Videos to Supplement the Career Portfolio Process

Career Portfolio DVDs
Use the Creating Your Career Portfolio DVD series to help you get a job, get a raise, get a promotion, identify your transferable skills, or build your own self-confidence. First, learn how to develop your career portfolio, then learn how to use it!
  #1 – Assembling Your Portfolio
This DVD overviews the career portfolio process and focuses on gathering supplies, work samples and materials to include in a career portfolio. This DVD features interviews with professionals and students who have used the portfolio,  expert interviews and detailed guidelines for putting together your own portfolio. 20 min. DVD – $99.
#2 –  Using your Portfolio in Your Job Search
Once you have created your personalized career portfolio, how do you actually use it in an interview? This DVD features sample interviews and expert commentary to show the do's and don'ts of portfolio use in an interview setting. Learn tips on using the portfolio to your best advantage.20 min. DVD – $99.
#3 –  Transferable Skills: Using Everything You've Got to Advance
Learn how to identify and use your transferable skills to advance your career.
20 min. DVD – $99

Career Portfolio Books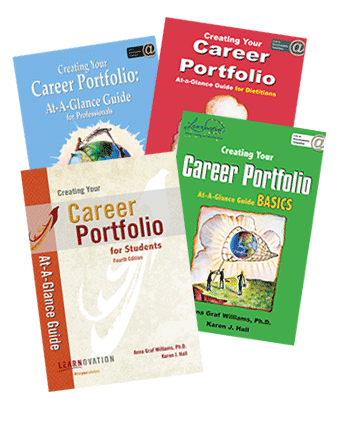 Learn how to create your own Career Portfolio with the Basics,  Student, Professional,or Dietetic version of Creating your Career Portfolio: At a Glance Guide.