Career Portfolio Basics

Just What is a Career Portfolio?
What is a Career Portfolio?

A Career Portfolio is a tool to help you plan,organize and document your work samples and skills. Using a portfolio can help you get a job, get a higher starting salary, show transferable skills, track personal development and position yourself for advancement.
The portfolio is a collection of information you design and create to help you present the best of yourself to other people. It contains a combination of the following areas:
Goals and Values

Resume

Skill Areas including: Work Samples, Letters of
Recommendation, Skill Sets, Works in Progress

Certifications, Diplomas, Degrees, or Awards

Community Service

Professional Memberships and Service

Academic Plan of Study

Faculty and Employer Biographies
Show Them What You Can Do
Take the portfolio to your interview and show a potential employer or manager samples of your work. Show them your certificates, things you've done to serve the community, etc. Show them why they need you or why you should be promoted. Use the portfolio to stress your strengths in different areas. It was worth $9,000 to John. His boss told him at his 90-day review that he was classified at a higher pay rate because of the work samples in his portfolio.
Improve your Confidence
By putting together your portfolio, you learn to recognize your strengths and emphasize them in the portfolio. You also learn where your weaknesses are and how to compensate for them. Jill found that the process of putting her portfolio together was revealing. It made her aware of all the different things she had done in her job. She felt confident that she could answer all the "hard" questions from the interviewers.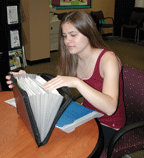 It's an Edge
Competition's tough in the job market. A personalized portfolio can help you stand out from the crowd. James was competing with two other good candidates who could start right away. The company waited for James after they saw his portfolio.
Career Portfolio Books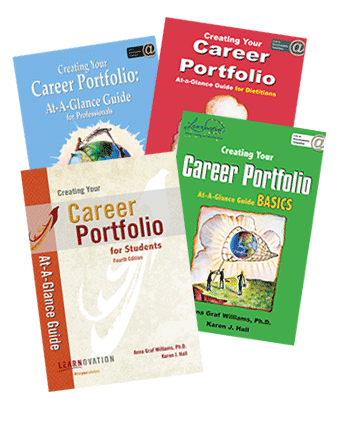 Learn how to create your own Career Portfolio with the Basics,  Student, Professional,or Dietetic version of Creating your Career Portfolio: At a Glance Guide.
Career Portfolio DVD's
See the portfolio in action with career portfolio videos