ePortfolio
TM
The Career Management Tool
The ePortfolio is currently incorporated into the eTools Suite. Individuals can record, track, and prepare skill sets, both technical and transferable, for temporary and long-term employment using the ePortfolio.
Career development is enhanced by the collection of work samples and tracking of work history, military service, and educational background. The ePortfolio serves as the backbone for gap analysis in career placement.
Features:
Enhance and interact using occupational job titles and key knowledge, skills, and job attributes
Compare and transition veterans from military service to civilian jobs
Military coursework is quantified for academic credit via CIP codes to community colleges and universities
The ePortfolio allows individual users to interface with workforceOne and economic development efforts in state and local communities
Work samples are quantified by specific skill sets, education, community service, work experience, and work attributes
Work samples can be recorded in text, PDF, voice, JPG, and TIFF file formats
All management of the ePortfolio process coordinates with job flow, work flow, and campaign business functions for the case manager and administrator.
Career Portfolio Books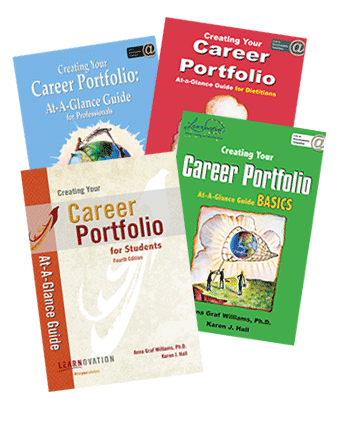 Learn how to create your own Career Portfolio with the Basics,  Student, Professional,or Dietetic version of Creating your Career Portfolio: At a Glance Guide.
Career Portfolio DVD's
See the portfolio in action with career portfolio videos