Career Portfolios for Professionals
Use your Career Portfolio for Advancement and Promotion
Once you have the job in the field you want, it is time to start planning for your advancement. How are you going to get that promotion into the next job on your career ladder?
Start by developing your Promotion Portfolio. Promotion portfolios can be used to track your accomplishments on the job. Begin collecting your work sample from the first day you start you job. Use a promotion portfolio to help advance into the positions you want, and to ensure your career goal success!
Or is it performance appraisal/job review time again? Develop a Performance Portfolio to impress your boss by proving to him or her what you have done in the past 12 months. Track your accomplishments and map them back to your performance appraisal. Don't just ask for a raise (you won't get it), prove why you deserve the raise!
Using Career Portfolios for Job Shifting
If you're transitioning to a new job, use your career portfolio to prepare for interviews with new companies. Be sure to:
Document skills you acquired at your previous job(s)

Show your professional memberships

Get a letter of release from you previous company

Get a letter of recommendation
Using Career Portfolios for Job re-entry
If you're re-entering the workforce, use your career portfolio to prepare for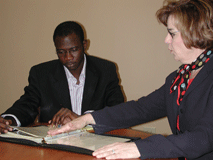 interviews and get new ideas during an informational interview. Be sure to:
Document skills you acquired at your previous job(s)

Document transferable skills you gained while you were out of work including skills from:

Hobbies

Community service

Family responsibilities
Using Career Portfolios for Tracking Certifications
Tracking Certifications
Many industries are beginning to require education beyond college. They are requiring employees to hold certifications. Specialty training courses are specifically designed to improve your knowledge in a specific task or area.
Highly prevalent in the tech industry, certifications are becoming more and more popular in all industries. Use your career portfolio to help track any certifications you earn during your career. Being able to prove your expertise in specific skill areas will mean more income!
Use Your Career Portfolio to Create your Career Development Plan
Career portfolio materials give you:
instructions and content
examples of work
career portfolio templates
examples of work samples
an interface with Career Portfolio software
Career Portfolio DVD's
See the portfolio in action with career portfolio videos
Career Portfolio Books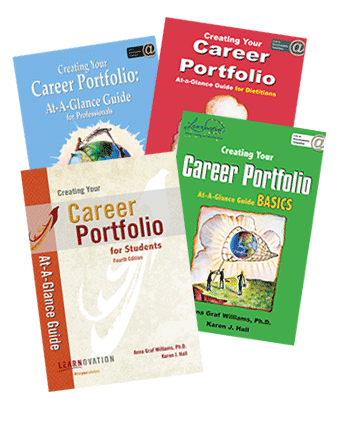 Learn how to create your own Career Portfolio with the Basics,  Student, Professional,or Dietetic version of Creating your Career Portfolio: At a Glance Guide.