Career Portfolio Tips & Tricks

Getting the Most out of Your Career Portfolio
Here are some great tips for working through the career portfolio process:
Don't be too humble! —

Many people are too humble to explain their accomplishments. The career portfolio helps individuals talk about themselves in a job seeking or career advancement situation.

COLLECT now — SORT later.
Use your smart phone or calendar to generate a list of your accomplishments from your appointments or meetings.
I'm Unemployed
Q:  I am currently unemployed and afraid this will affect me negatively with a future employer—even in this economy.  How should I handle this on my résumé?
A:  Community Service—is a great way to create new work samples.  This has two benefits.  First of all you are demonstrating that you keeping yourself developing skills.  Second, negotiate with the organization how you wish to document your project, time, skills, knowledge, abilities and the target goals you mutually have.  Remember fun and focuses are allowed to go together.  Many employers are quoted as saying they will take a volunteer with slightly lower grades than a non-volunteer with higher grades.
Collect now…sort later.

  The new phrase is "set up the system and review it once a month" or 30 days before you want to deliver your career portfolio.  Mark the reports and deliverables on your calendar.  Keep copies and set up your file management to help you document your skills and attributes.  Get a plan and let it work for you.
Resumes –

The new résumé is sleek, follows a key word skill harvest format and is imbedded with links to work samples.  Gone are the days of wordy, multiple page formatted resumes on velum paper.
Employers post multiple jobs and hire one person whose skills match best to more than one position—Employers are constantly skill harvesting.  Organize your work samples by individual skills and competencies.
Green Jobs

—Organize your work samples by these large categories:
Energy efficiency
Green building
Sustainable design
Environmental protection and preservation
Organic and recycled products
Renewable energy
Sustainable business practices, including clean tech.
Conservation of energy and natural resources being integrated into occupations where "special" skills are required from the traditional position are what define the job as

green

.
Using Technology
It takes more than a list of the software you are able to use. Show reports, templates and output/files generated to prove you can use the software.  For complex applications use mind maps or gnat charts to show the output, timeline, amount of time on task and interaction with others.
Does your cell phone do everything but make coffee?  Can you check email, IM (instant message), get on the internet, navigate to a destination and other business functions?  Note these are more than call, text and take photos.  How you use your everyday tools matters in the business world.  Make the connection to your desktop…it is part of the investment in your career and saving time.
Employers are asking questions about how you problem-solve with your phones as a "quick audit" of your tech savvy.  Do you have personal decision rules on how long you spend troubleshooting?  Can you trace your steps?  When do you call for tech support?
Social Networking…Employers do look at Facebook, MySpace ® and Google your name to see what comes up.  Employers both current and potential are reviewing your image, how you handle privacy and the type of impression you have "out there."
E-Portfolio copies:  Look for your work samples in certificates, projects, reports, letters of support and community service activities.  Protect your documents with memberships numbers or identity information by blacking out the numbers and noting that the original is available during personal interview.
Work Samples
Many people are too humble to talk about themselves and their accomplishments.  The structure of the career portfolio and focus on skills and competencies allow you to present yourself in an honest, professional, and deliberate way respected by employers.
The nature of the career portfolio demonstrates your ability to work in the emergent workforce by your use of technology, management of your own career and presentation of your skills, work experience, education and competencies
No matter what your personal style of communication, your work samples speak for you.  Save all your work samples, employers using top grading are interested in your work history and the progression of your career.
Today's emergent employers skill harvest for technical, soft skills and top key attributes.  Employers consider transferable skills when key leadership traits are present.
The "Human Factor"… having your personal life in order, free of drama and crisis draws success in your career. Why would an employer trust you with the key human resources in the company if you can't handle your personal life?
Business is results oriented…to get results first start with your words which lead to thoughts and then to feelings.  Remember how people are feeling about the situation, project, or team translates into the results.
Are you an Emergent Professional?  If you take responsible for your career; Work/life balance options, such as flex-time & telecommuting are essential. You want promotions based on performance and you want access to all levels of the organizations.
Graphics and Pictures
Use a photograph when a large 3D project does not fit into your career portfolio.
Scan all documents you will be printing at 300 dpi resolution or higher.
You should include yourself in all action shots — this gives great talking points in your career portfolios for interviews and performance review meetings.
Clean before copying! — Clean copying machines, scanning beds and any electronic equipment with flat glass screens using glass cleaner prior to any copying to assure quality when copying or scanning.

Use color! —

color sources are always better than black and white.
Assembling the Portfolio
NEVER – put your original in your career portfolio —
always use a quality copy.
About Work Samples
Use newspaper clippings and thank you notes only if it demonstrates specific skills clearly and specifically. Note the paragraph and skill location on the exhibit card for quick location.

Transferable Skills — Even when you have been employed in a job outside your chosen career, take a look at how aspects of it can help you in your chosen field. You should always consider how a job or experience might be transferable to a new position or career change.
Identifying Skills and Needs
Look at job postings to identify skills to target lateral or upward career moves within the company or competition.
Keep current on trends in professional certifications

How many clock hours required

How many class hours required

Certification requirements

Many employers are looking for leadership skills—what entrepreneurial skills do you have and how will you document them? These will be helpful to advance your leadership movement up in the organization.
Career Portfolio Books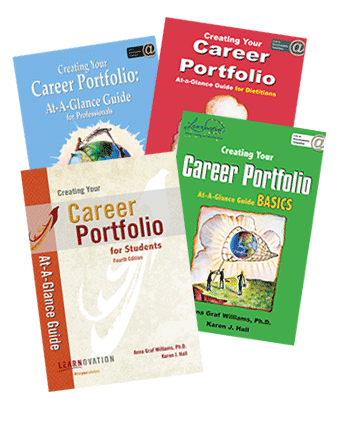 Learn how to create your own Career Portfolio with the Basics,  Student, Professional,or Dietetic version of Creating your Career Portfolio: At a Glance Guide.
Career Portfolios for Students
It's never too early to start your Career Portfolio
New 4th Edition!
It's your career, your life, and your future.
As a student, you have great opportunities to explore careers, identify the skills you need to thrive in your chosen career, document your skills, and take charge of your own learning.
The most significant factor in your career success comes down to how well you know yourself– What knowledge, skills, abilities, and competencies do you have, and how do you use these for your well-being? You're not just learning skills to get a job- you are creating a toolbox of knowledge and skills that can transfer into your work and personal life to give you a sense of purpose, help you engage in your community, and be well-rounded financially, physically, and socially.

In this 4th edition, the focus is on:

categorizing your work samples and community service activities.
writing meaningful goals to close the GAP between your current skills and the requirements of your target career.
seeking out social documentation for your soft skills.

connecting your LinkedIn™ profile to your career portfolio.

the need for both a hard copy and ePortfolio on your job quests.

proving you are the right person for the job, internship, scholarship, or promotion.
For courses in Career Planning, Career Development, Employment/Job Search; Intro courses where students will begin to compile projects and work samples to show skills; and Senior Seminar/Capstone Courses where advanced students are preparing to enter the workplace.
Designed to assist students in pulling together their many skills and competencies, this innovative, easy-to-read guidebook provides detailed instructions for planning, assembling, and using a personal Career Portfolio for a job search or promotion. It shows them how to tie together and "package" their work experiences, class projects, professional development, and personal experiences to help them "sell themselves" in the job market.
Features
4th Edition expanded—

Provides full-chapter coverage of key topics, and organizes chapters based on the processes of planning, details on sections of the portfolio, assembly, style guidelines and uses of the portfolio.

Integration of ePortfolios into the Career Portfolio process

—How to organize and manage an ePortfolio and use it as a career tool.
Expanded information on using Career Portfolios for more than just the job search


 Focus on identifying current skills and finding the gaps

between current skills and target jobs.

Downloadable

templates—

Microsoft Word templates with commonly used forms for goals and objectives, statements of originality, references, awards, projects in process, project overview cards, etc. Save time during assembly by using pre-designed templates.

Detailed how to's—

Provides step-by-step guidelines for designing, creating, and using the portfolio for the job search, internships, scholarships, and job reviews.
Gives students decision rules for selecting materials and projects to create a personalized portfolio.

Style Guide—

Provides tips for creating better-looking text and photographs, as well as other ideas for the production side of the portfolio. Provides practical ideas to make the portfolio look better.