Career Portfolios for Workforce Development

Tools to help people enter the job market with success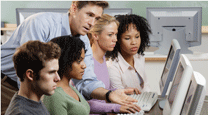 Career portfolios are the ideal tool for any individual looking to transition their career. From teens entering college to older workers struggling in career shifts, a career portfolio can help people identify and showcase their skills and abilities.
The career portfolio is a successful career development tool that works with a diverse population, specifically:
Returning military – transitioning from military to civilian work

Welfare to work programs

Prison reentry

At-risk youth – both dropout and juvenile delinquents

Job shifting for older workers
Identifying Skills and Building Confidence
While creating a career portfolio a person identifies his or her strengths and learns how to promote his or her transferable skills. Developing a portfolio also helps people analyze their deficits and strategize ways to learn the skills they need to advance in a career. The hidden agenda of developing a career portfolio is building self confidence and helping each person see the value in all of his or her experiences whether in school, at home, or on the job.
Career Portfolios are fast becoming one of the best ways to get students to buy-in and take charge of their own careers.
Assembling a portfolio is an active process where students identify their skills, deficits, and strategize ways to learn the skills they need to advance in a career.
Working with Electronic Career Portfolios gives students the ability to get organized, get feedback, and identify and document transferable skills.
With Career Portfolios, you can integrate outcomes assessment and help pre-certify students for employment.
Use student portfolios to make parents better partners, and reach out and connect with area employers.
Transitioning a career is a challenging time, whether changing jobs, reentering society from prison, or shifting from active duty to civilian life. Career portfolios are being used to help individuals identify and promote their transferable skills, gain self-confidence, and make positive changes for success.
Use Your Career Portfolio to Create your Career Development Plan
Career portfolio materials give you:
instructions and content
examples of work
career portfolio templates
examples of work samples
an interface with Career Portfolio software
Career Portfolio Books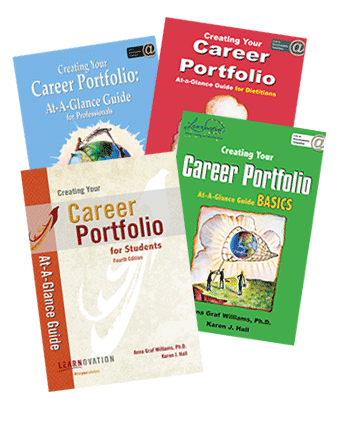 Learn how to create your own Career Portfolio with the Basics,  Student, Professional,or Dietetic version of Creating your Career Portfolio: At a Glance Guide.
Career Portfolio DVD's
See the portfolio in action with career portfolio videos