Career Portfolios for Educators
Curriculum and Tips for Teaching
Teaching with Career Portfolios?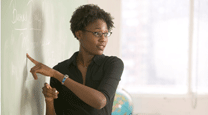 Detailed curriculum plan now online
Lesson plans include grading rubrics for:
Career Portfolios

Component parts of a Career Portfolio

Exercises from the Workbooks

Electronic Career Portfolios
Teaching students how to develop career portfolios is like handing them money for life. The career portfolio is a process that can work for life. If you are looking for ways to take the career portfolio elements across the curriculum or for suggestions on how to teach difficult sections—read on.
Teaching Tips 
Helping Students Find Work Samples
It can be difficult to know where to start with the development of work samples. Here are a few hints on where to look.
Classroom projects

Certificates of participation

A summary of a school project

Picture of a finished poster presentation

Spreadsheets, PowerPoint summaries or databases you created.

Reports

Project overviews with feedback sheets or grades

Results of simulations

Internship reviews

Community service projects

Executive Summaries of large class projects

Letter of recommendations, Thank You letters, Kudos

Photos of work

Hobby skill sets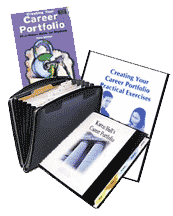 How to Select Work Samples
—ask yourself the following questions about each sample:
Is this my best work?
Does it show my skills?
Am I proud of this sample…. all or part of it?
When in doubt, leave it out—Never include a work sample that you are not proud to be associated with now or in the future. More is not necessarily better.
Learnovation has been designing and developing career portfolio instructional materials for years. Now we are offering this curriculum and assessment documentation to assist anyone who is interested in teaching the concept of career portfolios. We offer:
A

Full Course curriculum

designed for 40 – 45 hours of instructor contact
A

Jump Start Seminar curriculum

designed for 15 to 18 hours of instructor contact; easily integrated into existing career development courses; or can be taught in a seminar/workshop format – and –
A

Self Study curriculum

designed for use in career development center settings, placement offices, and online courses with 8 to 10 hours of instructor contact time.
The curriculum was designed by educational experts and incorporates all of our Career Portfolio training materials. The curriculum includes information on topics to be discussed in class, materials that are needed, and a full list of assignments and activities to be completed by the participant. We also include grading rubrics and outcomes assessment for:
Career portfolios

Workbook exercises

Individual and group activities

Electronic portfolios.
Take the time to review this curriculum and you will see just how easy teaching Career Portfolios can be. You will also see how simple it can be to incorporate Career Portfolios into any career education course.
Here are some ideas to help students create their own career portfolios:
Teaching Tips
Have each student set up his/her individual organization system. Use tote boxes, binder boxes, or expanding folders as a place to collect work samples.

Let students know that they may need more time to think about the issues than to actually create the samples.

Even the shyest student can use a portfolio to succeed in an interview by letting the career portfolio talk for him/her. Spend time role playing how to use the career portfolio to answer interview questions or to document the needs of an employer.

Collect measures and give feedback on the component parts of the career portfolio prior to final completion. Students can get blocked with large massive projects. Give your students feedback throughout the portfolio process.

Establish objective measures of performance rather than subjective measures. Use interview questions as an oral component to audit if the student has completed the work personally.

Use peer feedback to help students brainstorm their skills. A friend or peer may be more successful than an instructor at reminding the student of his or her accomplishments. This also speeds the development process by allowing you to troubleshoot other components of the career portfolio.

Encourage your students to use keywords in the development process. Business and industry responds best to quick, easy to read materials.

If your students are feeling like they don't have any skills to include, take them through a day in their life and point out the skills they are demonstrating. Spend time identifying how skills can transfer to the workplace or the job market.

Remember, your hidden curriculum is to build self-confidence and assist students with personal goal-setting.
Watch for more teaching tips!!!!
Career Portfolio Books
Learn how to create your own Career Portfolio with the Basics,  Student, Professional,or Dietetic version of Creating your Career Portfolio: At a Glance Guide.