The Immigrant's Guide to the American Workplace
Help people develop confidence and experience with the work and cultural settings in America
The Immigrant's Guide to the American Workplace 


(© 2003 Pearson/Prentice Hall, 268 pages)
Authors:  Anna Graf Williams, Daljinder Kooner, Mary Jo Dolasinski, Karen J. Hall
$25.00
Description
This revolutionary book is designed to help immigrants transition into the American workplace. Geared to people new to the U.S., this book helps people develop confidence and experience with the social and cultural settings in America. Topics include hygiene and dress, finding and working with a mentor, dealing with culture shock, learning to understand and communicate, getting around, handling money, getting a job, professionalism and values. Each chapter includes activities to help immigrants learn their way around America. This book is perfect for line level service people as well as budding professionals, anyone who wants to be successful in the U.S. job market. Contents include:
The Freedom of American
Authorized to Work
Hygiene, Grooming & Dress
Communication both verbal and non-verbal
Immigrant culture shock

American Values
Growing your independence
Relationships on and off the job
Employment How to's
Finding and Being a Mentor
Features
Real-life immigrant profiles—In every chapter.

Presents students with stories that give inspiration and insight into the challenges and successes encountered in the U.S.

Chapter exercises and activities—Lists and describes activities for mentors to use when assisting immigrants.

Teaches students how to successfully integrate into the American workplace.

Regulations and laws—Includes immigration standards and an overview of U.S. laws.

Provides students with reference information on American laws and immigration requirements.

Easy-to-use and read examples and illustrations—Features extensive use of charts, bullet lists, checklists, and graphics.
Enables students to better comprehend the information presented throughout the text.
Keywords and short phrases used in the American workforce.
Teaches students the words and phrases commonly used in the U.S. workplace.
Book Contents
1. Only in America
2. Here to Stay! Immigration and Citizenship
3. Learning the Language
4. Hygiene, Grooming, and Clothing
5. Cash and Credit
6. Housing
7. Transportation
8. Shopping
9. Dining In, Dining Out
10. Out on Your Own
11. Balancing Home and Work
12. Education
13. Getting a Job and Keeping a Job
14. Taxes and On-the-Job Benefits
15. Communication at Work
16. Telephones and Other Technology
17. Mass Communication
18. Finding and Being a Mentor
---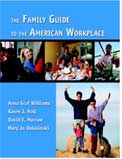 Complete job readiness training integrating life skills and job skills – The Family Guide to the American Workplace