Financial Literacy Pamphlets
Life skills pamphlets that address basic finance- one issue at a time.
Easy-to-Use … Assessment Driven… Training with Impact
---
Click on the images to view the materials

for one of the pamphlet in the series:


Paying My Bills



EASY TO USE…   
4-page pamphlets provide focused content on key topics of financial literacy – perfect for individuals or groups
12 individual pamphlets, focused on key parenting topics
Written at a federally mandated 9th grade level, but chunked for easy reading
One to two exercises per pamphlet.
ASSESSMENT DRIVEN…
Includes Pre and Post Assessment Documents  
Check mastery of each topic with assessment documents, included for each pamphlet 
Provides data tracking for client success and future grant writing
EASY TO TEACH…
 The companion Instructor's Manual adds 1-1/2 to 2 hours of detailed training for each topic with PowerPoint slides, additional content and exercises.
14 new pamphlets focused on helping individuals succeed on the job and in their personal lives by learning basic concepts of money management and financial planning.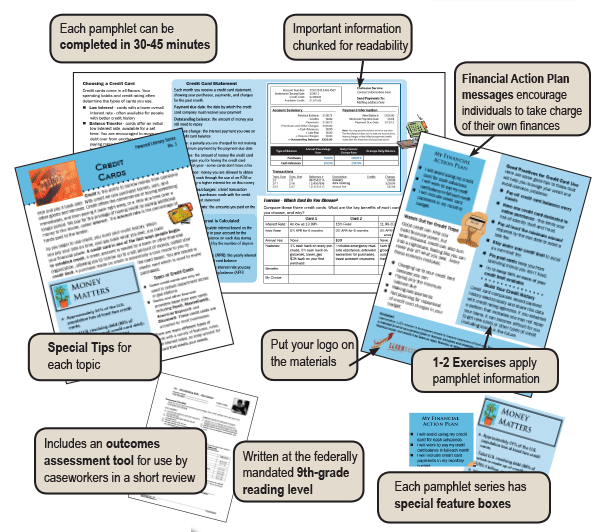 $17.95 – 14 pamphlet set with assessment documents
Money



F1 – How Money Works
F2- Checking Accounts
F3- Credit Cards
F4- Savings Accounts
F5- Taxes
F6- Pay My Bills
Building Your Future
F7- Loans and Interest
F8- Home Loans
F9 – Auto Loans
F10- Insurance
F11- Education
F12- Investing for Retirement
Credit and Debt
F13- Dangers of Debt
F14- My Credit Score
Available in hard copy or electronic format
Thanks to their design, these pamphlets are effective tools for individuals who need good information in a fast, easy-to-use format. Each pamphlet contains only the most important information on a single topic. Each pamphlet is:
Designed to be completed by each client individually


Four page layout – Not overwhelming, but easy to read and digest. Written at a 9th grade level


Tangible – something that belongs to the client


A reference tool for reinforcing the message


Each pamphlet comes with a outcomes assessment tool


Pamphlets can be completed in 30-45 minutes