Instructor's Manuals for Pamphlets Series

Training Guides that make teaching pamphlet concepts easy
Training with the Pamphlets
Each pamphlet is designed to be a flexible, independent unit of instruction, with different job and life skill applications. These pamphlets make up the core curriculum for all learning. The Instructor's Manuals has been developed to assist the provider in reaching the client/learner. Guidelines for training, discussion questions and activities as well as supplemental PowerPoint slides, are all detailed under each individual pamphlet.
Each Instructor's Manual includes:
two hour training lessons for each pamphlet – can be expanded or condensed based on your learners and your needs
additional content information and activities on each topic
PowerPoint slides for each pamphlet
Teaching the Pamphlets:
The Instructor's Guide provides teaching direction for each pamphlet in the series, including:
Pamphlet Overview—gives an overview of the contents and the different parts in the pamphlet
Activities Overview–

lists the activities in the pamphlet

Teaching Tips–

lists any special focus of the pamphlet, and includes any extra materials that might be useful to teach the topic

Learning Objectives—

what the client should be able to do after completing the pamphlet. Both the client and the provider will sign off on these objectives in each assessment document.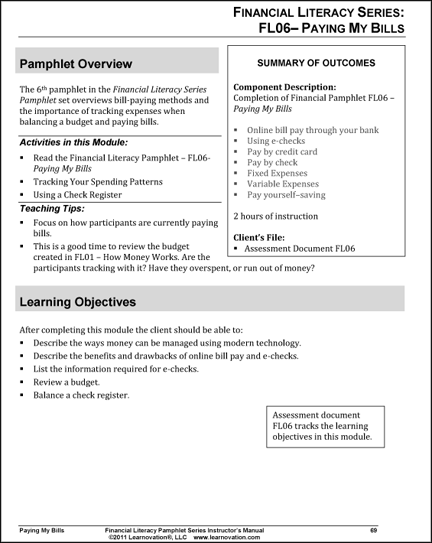 Teaching Outline—gives the provider a guideline for delivering the training to the client.
Overview Slide–

Each training begins with a slide overviewing the contents of the pamphlet.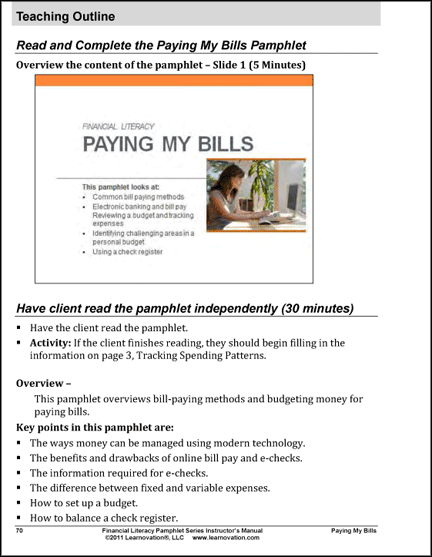 Reading Time–30 minutes are allocated for the individual to read the pamphlet and begin working on the exercises.
Discussion and Activities–

PowerPoint slides are available to review pamphlet material and give supplemental information on the topic.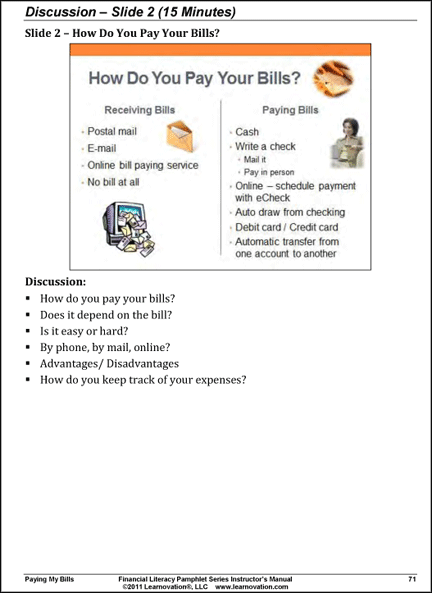 Activities–

Review exercises in the pamphlets and additional exercises.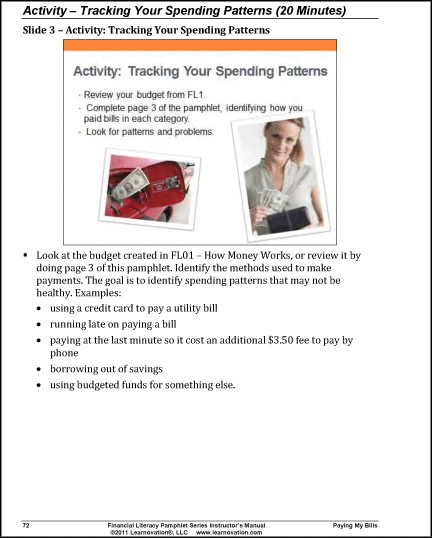 Completing the Assessment Form–

Time is scheduled at the end of the session to review the assessment form with the individual.

Click the Instructor's Manual to see a sample

 The companion Instructor's Manual adds 1-1/2 to 2 hours of detailed training for each topic with PowerPoint slides, additional content and exercises.
Pamphlet Series  are available in hard copy or online format
EASY TO USE…   
4-page pamphlets provide focused content on targeted key topics for the theme – perfect for individuals or groups
Individual pamphlets focus on key topics
Written at a federally mandated 9th grade level, but chunked for easy reading
One to two exercises per pamphlet.

ASSESSMENT DRIVEN…
Includes Pre and Post Assessment Documents
Check mastery of each topic with assessment documents, included for each pamphlet
Provides data tracking for client success and future grant writing
Pamphlet Series
Thanks to their design, these pamphlets are effective tools for individuals who need good information in a fast, easy-to-use format. Each pamphlet contains only the most important information on a single topic. Each pamphlet is:
Designed to be completed by each client individually


Four page layout – Not overwhelming, but easy to read and digest. Written at a 9th grade level


Tangible – something that belongs to the client


A reference tool for reinforcing the message


Each pamphlet comes with a outcomes assessment tool


Pamphlets can be completed in 30-45 minutes