Learnovation Pamphlet Series
A Holistic Approach to Workforce Development
Integrating Life Skills & Job Skills
Thanks to their design, these pamphlets are effective tools for individuals who need good information in a fast, easy-to-use format. Each pamphlet contains only the most important information on a single topic.
Give us a call at 888-577-1190 for special quantity discounts
Save money on job training while utilizing existing providers!
Customize the life and work skill content to your local state economy!
Standardize your job skill training and measure your outcomes.
Merge job skill and life skill training to help the whole person.
Six Pamphlet Sets:
Workforce Development – 14
pamphlets designed to help individuals improve basic job skills and life skills.
Reentry – 14 pamphlets designed to help improve basic job skills and life skills – geared to the needs of reentry populations.

Financial Literacy – 14 pamphlets focused on helping individuals succeed on the job and in their personal lives by learning basic concepts of money management, credit, and financial planning.

 Parenting – 12 pamphlets focused on helping people in a parenting role understand their responsibilities and build their skills in communication, discipline, and support, by providing basic guidelines for raising kids.
Wellness & Nutrition – 12 pamphlets focused on helping individuals succeed with basic health care, nutrition, mental health, and substance abuse information.

Study Skills – 10 pamphlets focused on helping individuals improve basic study skills and note-taking, time management, writing, and Internet searches.
---
Evidence-Based Methodology
All training materials with a Learnovation® copyright are developed with evidence based methodology. Learnovation® goes through a vetting process of piloting all printed materials with a control group methodology. In the case of both the targeted group and the training method, we have tested and refined our process and content. As such, we offer our reporting in the standards to appeal to your needs for your organization while also allowing you to do data mining for new trends that might emerge.  We believe that organizations are like people, living entities that need to learn.  Our goal is to assist you through the reporting process so you can respond to the changes in the economy and social environment that clients operate within.
Outcome
Assessment Tools
Each pamphlet comes with a quick assessment sheet.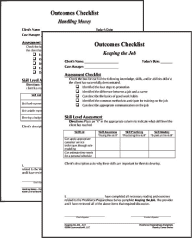 Features:
Can be signed by client and caseworker to show understanding and completion of the materials.
Takes 5-10 minutes to complete
Provides data tracking for client success and future grant writing
Can be completed in small groups when necessary
---
Instructor's Manuals

Instructor's Manuals available for each pamphlet set!
Each manual includes:
PowerPoint slides for each pamphlet
Detailed curriculum and teaching guidelines
Additional content to extend training time
---
Add Online Pamphlets to your Learning Management System (LMS)
Cloud-based system
All materials map to the O*NET database allowing you to track:

Soft skills and professional skills
Essential quantifiable knowledge

Powerful Analytics let you harness user data – create a platform for data-mining and building your own organizational research

Track learner time
Online assessment
Customized reporting