Reentry Series Pamphlets
Life Skills & Job Skills Material, Designed for the Ex-Offender
Concept Driven Pamphlets that address both job skills and life skills – one issue at a time.
The Reentry Career Pamphlet Series is designed to help ex-offender reenter the society and the workforce. These pamphlets give an overview of basic skills needed to succeed at home and on the job. They can be used as instructional tools, or as an initial assessment to determine needed services.
---
Easy-to-Use … Assessment Driven… Training with Impact
Our Reentry Pamphlet Series addresses the key topics related to job readiness and life skills.
Click on the images to view the materials

for the second pamphlet in the series:


Filling Out a Job Application



EASY TO USE… 
4-page pamphlets provide focused content on critical parenting topics – perfect for individuals or groups
12 individual pamphlets, focused on key parenting topics
Written at a federally mandated 9th grade level, but chunked for easy reading
One to two exercises per pamphlet.
ASSESSMENT DRIVEN…
Includes Pre and Post Assessment Documents  
Check mastery of each topic with assessment documents, included for each pamphlet 
Provides data tracking for client success and future grant writing
EASY TO TEACH…
 The companion Instructor's Manual adds 1-1/2 to 2 hours of detailed training for each topic with PowerPoint slides, additional content and exercises.
---
The program is designed to screen clients into two categories –
those ready to launch into independent successful employment with only a review of job readiness and basic life skills


the more dependent individuals in need of skill training and additional support services.
Reentry pamphlets focus on three topics – honesty, money, and self-confidence. The holistic approach has the offender practicing budgeting time and money, as well as self-reporting honestly in the activities in these pamphlets.
Features:
Four-page, full-color pamphlets focus on specific job and life skills.

A Reality: What to Expect box appears on the front of each pamphlet. These boxes orient the ex-offender to job realities, anticipated emotions, and other people's reactions to life transitions– all the traps of typical recidivism.

Concrete "How To's" have been written wherever possible. All abstract language is removed to reduce facilitating the "scheming" and poor decision-making that often leads to re-addiction and recidivism.


Each pamphlet contains at least one activity or exercise


Information is presented in small, chunked segments

for individuals functioning with potentially undeclared learning disabilities.

All materials are designed to target a 9th grade reading level – the minimum required literacy for many programs.
Call now at 888-577-1190
Let us help you with your grants and funding proposals!
We'll work with you to customize a program that meets your needs and budget.
Reentry Pamphlet Series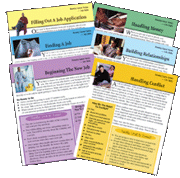 $17.95 per set – 14 pamphlets with assessment documents

---
Pamphlets in the Series:
Finding A Job

Creating Your Resume

Filling Out A Job Application

Job Interviews

Beginning the
New Job

Transportation

Keeping The Job
Handling Money

Handling Conflict

Handling Stress

Somebody's Angry

Building Relationships

Housing

Setting Up The Household
---
Also Available Electronically
Add Online Pamphlets to your Learning Management System (LMS)
Powerful Analytics let you harness user data – create a platform for data-mining and building your own organizational research

Track learner time
Online assessment
Customized reporting