Contact eConnect
SM
For Programs and Workforce Development Solutions
Are you trying to reach a target audience but keep struggling?
Do you have good contact information… but trouble getting a system of follow-up to work?
Do you want to automate common follow-up tasks that you do all the time?
The web gives you better hours of operation… Do you need a system for working the follow-up?
Do you have lots of little things to manage and you want to pull them all together into one integrated operation?
Do you need a better way to prove your accountability for grants and funding?
If you answered "YES" to one or more of these…you need to integrate Contact eConnect
SM

into your operation.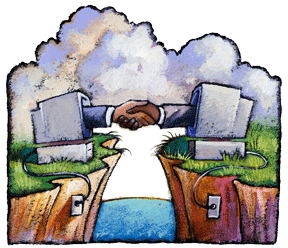 Finally there's a new way to connect to and track the people you support and serve in your organization. With Contact eConnect (SM) we design targeted Contact Forms to collect specific information you want to know about your clients, stakeholders, volunteers, advocates, businesses, donors, etc. They complete a simple form–we gather and organize tons of information about them. Powerful business rules run behind the scenes allow you to automate much of the work of follow-up and connecting with your people. Manage your programs and accountability with new-found efficiency… it's a system.
We help people who are not programmers or designers…

We focus on your management and service delivery team

We are operations supportive

We deliver rapidly, giving you the professional services in a very affordable package, whether you are a one person operation or a Fortune 100 company

You receive simple and executive reporting to audit your success and adjust your processes.
All you have to know is what you want to accomplish, who will be responsible for the follow-up in your organization and what you want to have happen with the information you are gathering.  We do the rest.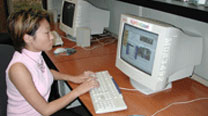 With Contact eConnect sm, you can create support systems that will save you time, labor and increase your efficiency

Great for automating repetitive data collection – setting up systems

Contact eConnect sm integrates into your current operations, interfacing with multiple data systems with ease
Support for your Virtual Office
Your Data is Secure – Over the past 12 years, our technology partner has successfully developed and deployed internet banking systems, bill pay, ATM applications, and commercial banking software. Using these same proprietary solutions, we provide your team access to the web from anywhere you can secure an Internet connection.

This allows you to grant access to authorized personnel, grantees, volunteers, agencies, outsource partners,and departments.

Virtual access allows everyone in your office to work from any location, whether you have people working in the main office, on the road, or from a home office. Create your own virtual office- giving people the flexibility to work at any time, from anywhere.
Integrate past the desktop and into operations.  The web remains a tool we help you manage.
Download the Brochure (PDF) »
Contact us today to schedule a webinar demo
---
Learn how to create your own portfolio with the professional, student, or dietetic version of Creating your Career Portfolio: At a Glance Guide.
---
Get a Professional Career Portfolio Bundle Pack for only $100!
Includes:
Professional Portfolio Kit with your choice of Career Portfolio workbook

Career Transitions Workbook
College Prep Workbook
Practical Exercises Workbook

Creating Your Career Portfolio: At-A-Glance Guide for Students