Creating Your Career Portfolio: At-a-Glance-Guide
This textbook is designed to give students the tools needed to identify and document their current skills and abilities into a hard copy and electronic Career Portfolio.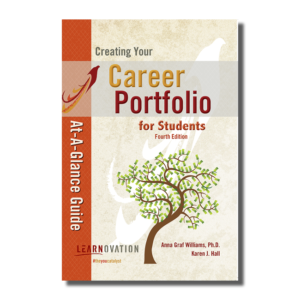 Click on the image for the downloadable templates!
show more
Career Portfolios are used in job interviews, college and technical entrance, and internship applications to help individuals demonstrate their abilities and rare talents. The Career Portfolio book emphasizes the differences between a job and a career, and steps the student through the process of identifying their own career priorities and goals, creating a customized résumé, and gathering work samples and materials that demonstrate their skills from their jobs, education, community service, activities, and military experience. The book guides the student on professionalism, with extra emphasis on soft skills and transferable skills, communication, work ethics, and dressing for success.
show less
Learnovation® Case Management Software 
Using your core services and existing relationships, the Case Management Software provides the dashboard for all team members to support individuals through RISK/ASSESS/ASSIST. Once set up your team can update the forms and contacts in real time.
Integrated Outcomes Assessment for Career Enhancement
Student and program outcomes are embraced with the integrated outcomes assessment tools with each aspect listed below.
show more
1. First and foremost, each student's status on skills, work experience, education, training and community service/activities is completed allowing both the student and staff to know the entry level status.
2. The Career Portfolio gives evidence of the student's awareness of skills, knowledge and abilities. The grading rubrics and curriculum map the student's soft skill, technical skill and transferable skills to the target job.
3. Each activity from pamphlets content and discussion to development of career portfolio components has an individual assessment rubric giving the participant and staff member feedback.
4. The outcomes assessment tools allow for individual variables to be compared by group. For instance, the CAREER GAP SOFTWARE allows comparison across participants for target careers, summary of skills as reported by the Department of Labor standards and the comparison of education and training to the CIP codes of program participation. The software reporting further allows for data summary by individual, group and policy as well as facilitating data mining for real time queries.
5. With the program goal to measurably enhance the careers of participants, measures are in place to capture the knowledge of the student, the skills of the student and goals.
6. Measures for gaining awareness and practicing the key pillars of Well
Being are take upon completion of materials and again in the presentation of the Career Portfolio.
7. Final program outcomes are also recording in the progress toward the target career as benchmarks are distinguishable in 480 plus hour windows on work experience, completion of courses for education, completion of certificate for training, hours of participation in apprentice or internships and acquisition of professional licenses and/or certifications.
8. Overall student's career enhancement is measured by the start status of knowledge, skills and abilities to the program completion as measured by the Department of Labor's Job Zone summary and GAP analysis to Target Career.
9. This program lends itself to case management where "Risk, Assess, Assist" procedures identify and allow for leadership to intervene supporting the individual as barrios to successful completion are identified. This support can be anywhere from learning enhancement to the identification of health issues, homelessness, or addiction concerns to name a few.
10. Using the tools associated with the Career Enhancement program progress can be monitored and measured for specific content gain, skill acquisition and successful employment.
show less
Learnovation® Career Enhancement Program
The Learnovation® Career Enhancement Program integrates the Career Portfolio At-A-Glance Guide, job skill/ life skill pamphlets, and the Learnovation® Career GAP software. In this program, Learnovation®, LLC has integrated these materials into a curriculum so students gain awareness of high-demand careers, the components of jobs that include high-demand skills, and the links to STEM skills.
show more
Emphasis is given to transferable skills and how students can prepare themselves for being continually job-ready. The curriculum is framed with job readiness, study skills, wellness and health, and financial literacy components to support the life skills necessary for gainful employment through workplace engagement and specifically the measurable pillars of Well-Being. Knowledge, skills and abilities are addressed from an occupation, education, training, community service/activities perspective allowing the student, staff, teachers and administrators through Job Zone (Department of Labor's conceptual framework) to be customized by the individual for Career Enhancement. The holistic approach to the curriculum, job readiness, and analytics allow the students, staff, teachers and administrators to have a voice in deploying and revising programs that are responsive to local economic needs and growth potential in the community.
show less
Learnovation® Career GAP Software
The CAREER GAP SOFTWARE provides a guided, exploratory, career tool for framing, classifying, and indexing work experience, education, training and community service/activities electronically by skills, abilities, knowledge and competencies.
show more
 Career GAP software's web-based solution supports guided résumé development, allowing the end-users to express their education, occupation, and training experience in a way that employers can get a clear snapshot of performance competencies measured over time. CAREER GAP SOFTWARE is available with web access for the duration of the site license, this can include the year of high school and post year of follow-up, allowing students to use CAREER GAP SOFTWARE during the hiring and transition processes. Users gain the opportunity to understand and link the value between career readiness and academic readiness. The CAREER GAP SOFTWARE is utilizing O*NET, allowing standardized reporting analytics. Students using the software are able to rapidly crosswalk their military skills and military training to occupational and education standards. CAREER GAP SOFTWARE provides the tools for users to enhance own Career Portfolios. This provides the end user the opportunity to integrate their essential knowledge, skills and abilities to social forums. CAREER GAP SOFTWARE supports staff and administrative functions, and provides customized analytical extracting and reporting, allowing you to thread multiple data silos. The students are able to take their current status and identify the prescription for reaching a target position. They have unlimited opportunity to secure their prescription for minimum viable education, required work experiences and the necessary licenses and credentials while gaining a better understanding of their current knowledge, skills and abilities— ultimately allow them to manage their own careers and set goals. 
show less
Professional Development of Your Team 
Learnovation ®, LLC has given over 500 in-services on topics ranging from working with special needs learners to integrating character awareness into career and life enhancement.
show more
Anna Graf Williams, PhD keynotes with distinction on measurement and outcomes assessment for Career and Behavioral Measures. With expertise in the Department of Labor's O*Net system and curriculum design her team conducts workshops for Industry Partners, Education K-12, higher education and workforce development agencies. Uniquely experienced in the integration of transferable skills of community service, closing the career GAP and using career portfolios to enhance careers and improve personal wellbeing—Dr. Anna Graf Williams participates in research as well as operational development of career enhancement and workplace engagement programming. Most importantly workshops and keynotes are done with while considering multiple paths to reach the goal.
We recognize people have preferred learning styles and require not only concepts, but also activities so they can progress from awareness to practicing and ultimately mastery of content. We constantly integrate our knowledge and experience of instructional design into an engaging seminar, workshop or keynote.
A few topics include:
Enhancing Workplace Engagement through the use of Career Portfolios
Measuring Gainful Employment and program outcomes
Engaging students online for gainful employment
How to reach your learner— anticipating needs through technology and techniques
The Staff Are People too— measuring the total program
Closing the Career GAP for life—Are we having fun yet??

show less
Job & Life Skill Pamphlets 
There are five core pillars of Well-Being: Purpose, Social, Financial, Community and Physical Well-Being. Each pillar is touched upon in our concept-driven pamphlets.
Workforce Readiness

Parenting

Finanacial Literacy

Wellness and Nutrition

Study Skills

Reentry
For more information on the individual pamphlets please visit the Well-Being portion of our website!
show more
 Each four- page color pamphlet is targeted at 45 minutes of independent instruction; with 1-2 activities; all materials and information are chunked for ease of concepts; reading levels are at a 9th grade level in order for Federal Reimbursement… the instructional design lends itself to the undiagnosed special needs learners. Each pamphlet includes an outcome assessment tool and mirrors industry performance appraisal tools. Instructor's manuals are available to offer an additional hour of content and small group activities. The focus of each pamphlet is to enhance workplace engagement by addressing an aspect of one of the five core pillars of Well-Being: Purpose, Social, Financial, Community and Physical Well-Being while also mapping skills to the O*Net database of skills.
Job Readiness/Life Skills – Seven pamphlets focused on basic job skills of finding, interviewing, starting, and keeping a job, and seven pamphlets focused on life skills of managing money, stress, conflict, housing and household setup, and identifying abuse.  
Financial Literacy – Fourteen pamphlets focused on the basics of money management including: checking and savings accounts, handling credit, paying bills, paying taxes and insurance, loans and retirement.
Wellness & Nutrition – Twelve pamphlets covering the ways to manage your own health including: getting the most out of doctor visits, managing medication and medical history, understanding special medical concerns, drug and alcohol abuse, mental health issues including PTSD and special needs learning.
Study Skills –Eleven pamphlets focused on tips to improving study skills, including how to study using technology, writing, taking notes, using the internet, time management, and basic study skills.

show less
Curriculum Development and Instructional Design  
We address job readiness, workplace engagement and gainful employment, with personal expertise in at-risk youth, reentry, outcomes assessment, curriculum development and mapping the Department of Labor's standards to both national curriculum standards and DOE standards.
show more
Learnovation®, LLC continues to work with hundreds universities from land grant institutions to community colleges, vocation, charter, and proprietary schools as well as public and private k12 school districts in their quest to validate curriculum to multiple standards. Learnovation®, LLC has been called upon to map curriculum to accreditation standards, identify projects that are viable for industry/employer work samples, and assist in developing industry advisory boards. Learnovation®, LLC is has actively mapped the new National Core Curriculum job readiness components, STEM components, and local leading economic industries into live classroom materials for K-12, community college, and 2+2 programs. Learnovation®, LLC has specialties in soft-skill development, gainful employment measures, leadership development, retail and hospitality industries, and partners with subject matter experts in IT, software programming, agriculture, banking and finance, automotive, transportation, and construction industries.  Learnovation®, LLC is known for its ability to integrate knowledge, skills, and abilities, tools, and technologies measures with job readiness, academic readiness, soft skills, and performance standards. We believe the holistic approach allows us to support both– staff, teachers and administration in preparing and inspiring students for career and academic success.
show less