Instructional Design Services

We know what it takes to make your programs work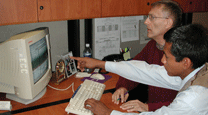 At Learnovation®, LLC we're educators and trainers. We know what it takes to make the return on investment (ROI) for the performance-based bottom line. We understand how weaknesses in the labor force affect productivity and profit. We believe that success comes from the process of developing all materials through the eyes of the end user.
For a sample of Learnovation®, LLC's instructional design abilities see:
http://www.fmi.org/supersafemark/training_kit.pdf
Training Development is a process!
Instructional Design is a process. It takes consideration and the targeting of knowledge, skills and attitudes to develop successful training and learning. Learnovation®, LLC has expertise in both technical/hard and soft skill assessment. We strive to set up systems and map outcomes back to the instruction developed for the client.
The following components make up our innovative and effective process:
Customize the Content of Your Book Series
Build YOUR program

Target each layer of your workforce

Use Custom Design to develop all aspects of the training materials and plan

Develop performance-based outcomes and map them back to your instructional materials


Participate in the process with our development teams and authors

Incorporate your best practices

Integrate your organizational examples and standards
Learnovation®, LLC's Instructional Design Procedure
Identify the team

Determine the book content

Set up the Approval Process

Develop additional materials such as:
a. Print
b. E-training
c. Videos
d. Traditional training

Printing

Implementation
Check out eDesigner…

Concept-driven e-training address both life skills and job readiness, one issue at a time.
---
Instructional Features

Custom Photos

Sidebars

Pull out boxes

Comprehensive Indexing

Custom graphics

Adjusted reading levels and presentation styles

So Many Possibilities . . .

Reference book

Supervisor's or manager's guide

Hourly or line worker's guide

Test preparation or certification guides

Trainer's guide

Additional training materials

E-Training