Services

Innovative products and services to help your clients and organization thrive!
Let us help you with your grant writing efforts. Check out our grant writing page filled with tips and suggestions for successful grant writing.
Group Facilitation and Strategic Planning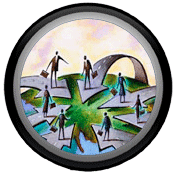 Has your group hit a bump in the road they just can't get past?
Are you launching a new taskforce that needs to be brought together as one?
Are you struggling with Mission, Goals, and Direction?
Group facilitation and strategic planning is not always as simple as it sounds. Even though you may know what you want the end result of your group to be, it can be difficult to develop a solid Mission Statement with Guiding Principles, set Measurable Goals, and lay out an aggressive Action Plan to obtain those goals.
Learnovation®, LLC has helped many organizations bond together as a team and truly set their group's direction. Whatever your group's interests are, Learnovation®, LLC can help you to get the ball rolling and ensure it's future success!
Volunteer Management
Recruiting and retaining volunteers is one of the biggest challenges many organizations face. While recognition and thanks are great motivators to some people, others are looking for more tangible rewards for volunteering. One thing community service does offer in abundance is experience. Identifying, documenting, and promoting the skills that go into community service is a great way to give something back to your volunteers.
Community service can help people develop many of the "soft skills" that today's employers are eagerly looking for. Teamwork, organization, communication, leadership, problem solving, and enthusiasm are just some of the skills that can help an employee stand out or stay put in today's market. More employers are looking at the skills employees can bring to the job from other careers, and their life outside of work, including community service. People who volunteer tend to be better leaders and have better attitudes in the workplace.
Documenting marketable skills from community service can also help inspire and motivate your volunteers. Many volunteers discount their service as a good thing for the community or their organization, but don't realize the personal benefits they receive by volunteering. A stay-at-home mom who spends two years as vice-president of her child's PTO will gain experience in organization, leadership, conflict management, delegation, and managing other people. If she wants to rejoin the workforce when her child is older, all of these skills can help her to make the transition. Properly documenting her skills can turn her volunteer experience into a truly marketable asset.
Ask how we can help you with:
Setting up a volunteer management system
Coordinating volunteer management resources
Contact management of volunteers
HIPAA registration and releases
Skill assessment of volunteer talent
Volunteer scheduling software
Volunteer management training
Volunteer management job development
Learnovation®, LLC's recipe for
Program Development:
1 part Creativity
1 part Instructional Design
1 part Outcomes Assessment
Blend with Style and Entertainment
Mix with your Subject Matter Expert and Industry Best Practices and you get a training program that will meet all of your training needs.
We start by analyzing your needs, then we propose the level of detail you will need for a full program that will meet your needs. Programs are fully customizable. We encourage hands-on interaction with the team you designate to ensure your needs are met.