---
Instructor's Manuals
Instructor's Manuals available for each pamphlet set!
Each manual includes:
PowerPoint slides for each pamphlet
Detailed curriculum and teaching guidelines
Additional content to extend training time
Add Online Pamphlets to your Learning Management System (LMS)
Cloud-based system
All materials map to the O*NET database allowing you to track:

Soft skills and professional skills
Essential quantifiable knowledge

Powerful Analytics let you harness user data – create a platform for data-mining and building your own organizational research

Track learner time
Online assessment
Customized reporting
Workforce Development Pamphlets
Job concept driven pamphlets that address both life skills and job skills – one issue at a time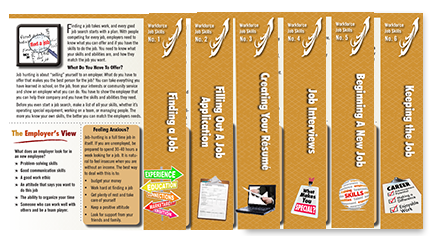 $17.95 per set
Finally, a workforce development series created with the end-users, your clients…in mind. Concept-driven pamphlets that address both life skills and job skills, one issue at a time.
14 pamphlets focused on helping individuals succeed on the job and in their personal lives.
Pamphlets in the Series:
Job Skills
Finding A Job
Creating Your Resume
Filling Out A Job Application
Job Interviews
Beginning the New Job
Transportation
Keeping The Job
Life Skills
Handling Money
Handling Conflict
Handling Stress
Somebody's Angry
Abuse in the Family
Housing
Setting Up The Household
The Workforce Preparedness Pamphlet Series is designed to jump-start individuals in the workforce– both from the job readiness and the life skill perspective. These pamphlets give an overview of basic skills needed to succeed at home and on the job. They can be used as instructional tools, or as an initial assessment to determine needed services.
Outcome Assessment Tools
Each pamphlet comes with a quick assessment sheet.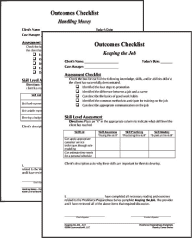 Features:
Can be signed by client and caseworker to show understanding and completion of the materials.
Takes 5-10 minutes to complete
Provides data tracking for client success and future grant writing
Can be completed in small groups when necessary