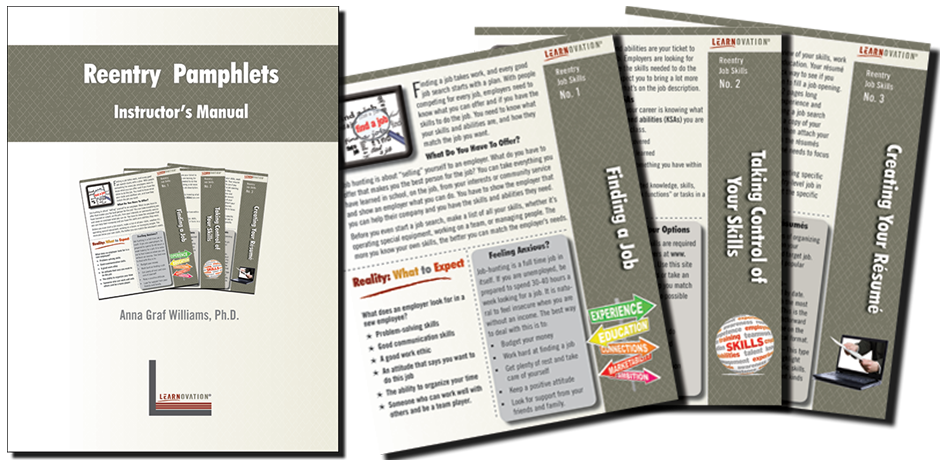 The "HOW-TO" of Training Life-Skills
Instructor's Manuals give you the freedom of customized teaching without the hassle of creating curriculum.
We understand the need to maintain budgets and work within monetary constraints. Please do not hesitate to call us at 1-888-577-1190 to discuss how our materials can work within your budget!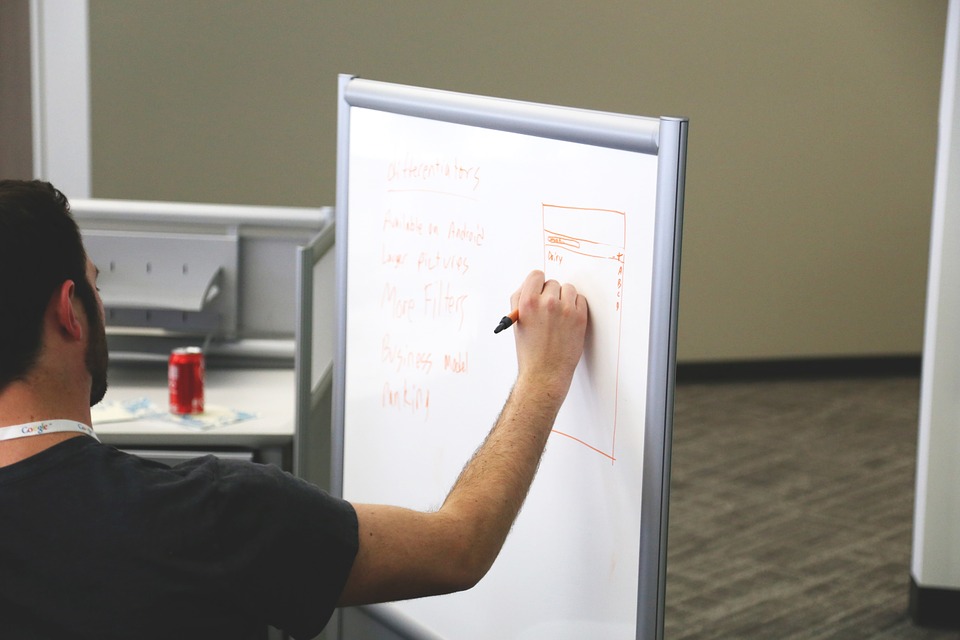 Imagine if you could spend more time with your clients and less time creating a lesson plan
We have the answer to your prayers
The Instructor's Manuals has been developed to assist the provider in reaching the client/learner. Guidelines for training, discussion questions and activities, as well as supplemental PowerPoint slides, are all detailed under each individual pamphlet.
more…
Features:
Two hours of training lessons for each pamphlet – can be expanded or condensed based on your learners and your needs
PowerPoint slides
Additional content and activities with supplemental pamphlet material
Teaching tips and detailed instruction
less…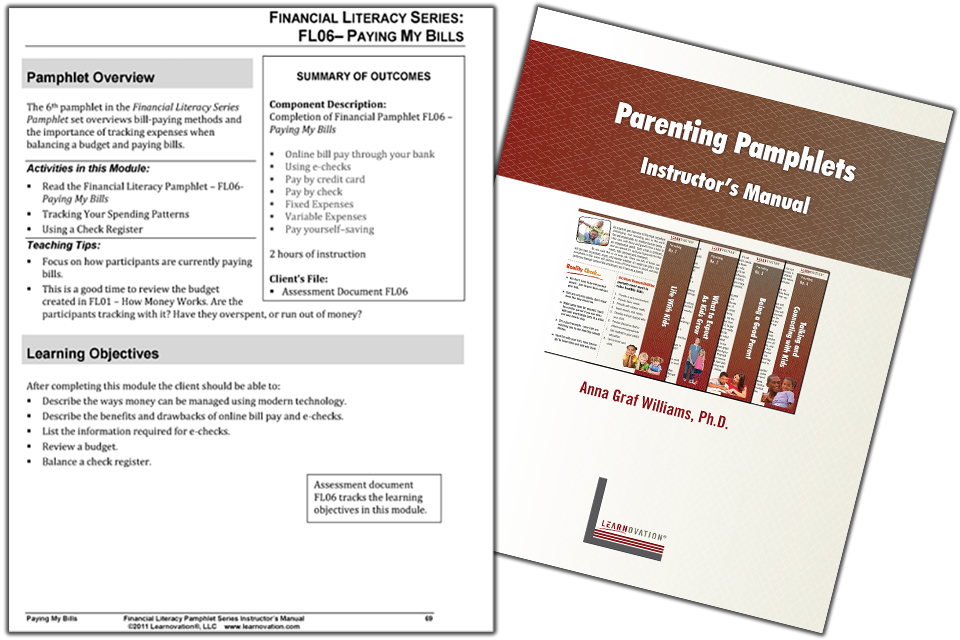 How do You Teach the Pamphlets?
One Issue at a Time…
The Instructor's Guide provides teaching direction for each pamphlet in the series, allowing you to take the guess work out of instruction.
more…
 Pamphlet Overview—

gives an overview of the contents and the different parts in the pamphlet

Activities Overview–

lists the activities in the pamphlet

Teaching Tips–

lists any special focus of the pamphlet, and includes any extra materials that might be useful to teach the topic

Learning Objectives—

what the client should be able to do after completing the pamphlet. Both the client and the provider will sign off on these objectives in each assessment document.

Overview Slide–

Each training begins with a slide overviewing the contents of the pamphlet.

Teaching Outline—

gives the provider a guideline for delivering the training to the client.

Reading Time–

30 minutes are allocated for the individual to read the pamphlet and begin working on the exercises.

Discussion and Activities–

PowerPoint slides are available to review pamphlet material and give supplemental information on the topic.

Completing the Assessment Form–

Time is scheduled at the end of the session to review the assessment form with the individual.
less…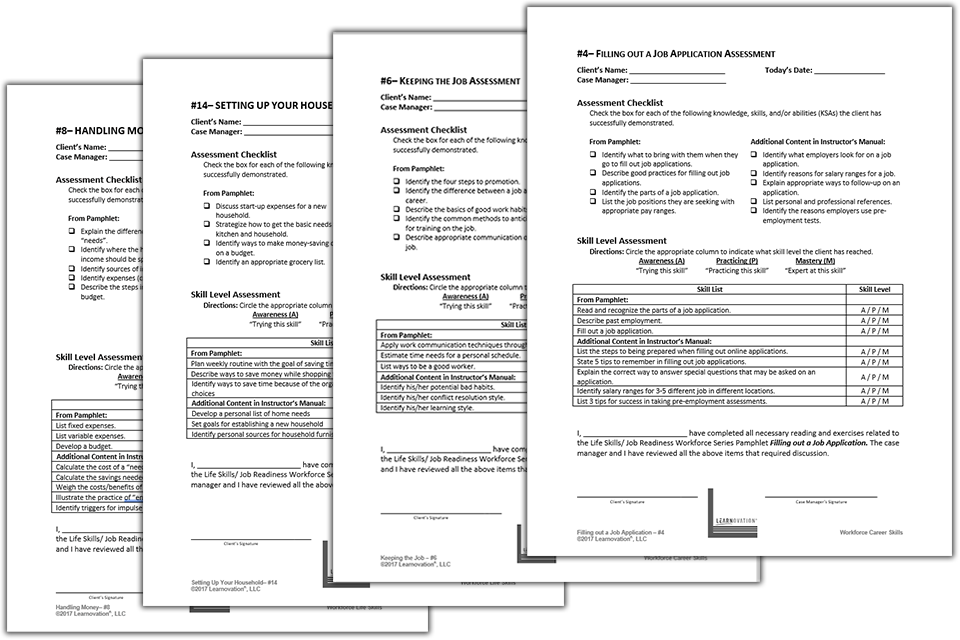 Is your program on the brink of extinction? 
Get the evidence based outcomes you need to start thriving
Keep reading to learn more about the features…
more…
Features:
Documents case management engagement
Compliments individual case manager strengths while standardizing outcome measures
Rapid completion and engagement of 5-10
Provides data for tracking client success, providing measures for future grant writing
Instruction in the Instructor's Manual to support completing documents in small groups when as needed.

less…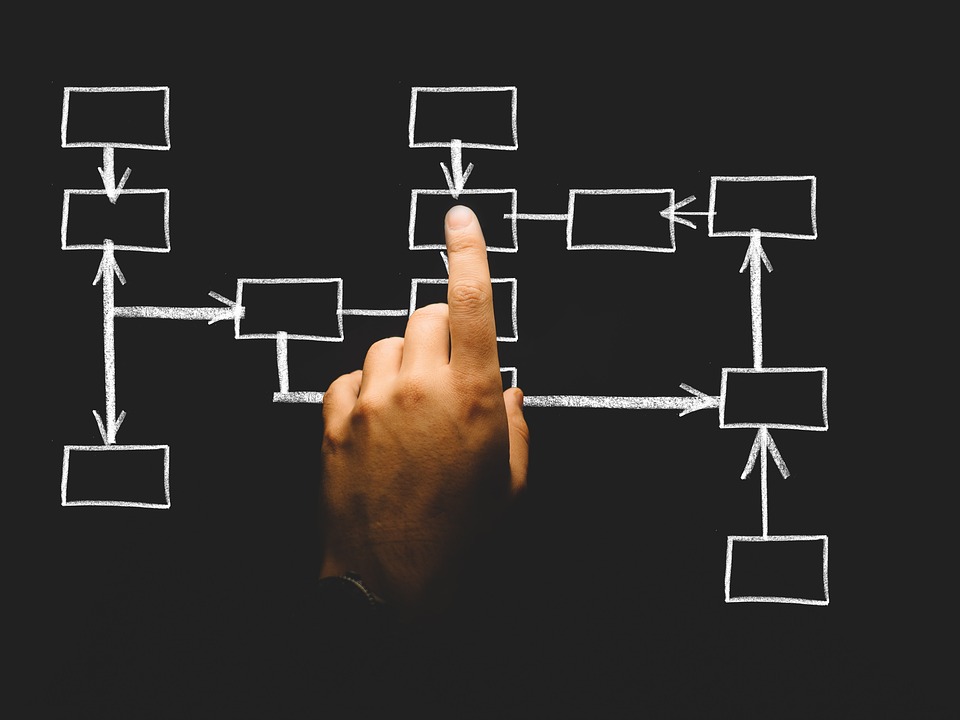 Our Shortcuts Get You the Results You Need!
Tried and True Methods that Create Success.
Case Management System
Rubrics Generator
Custom Content
Learning Management System

tell me more…

Our Case Management System helps you:

identify the risks
assess the current status
and assist individuals in getting the services they need.

GAP Analysis

Help users see the GAP between their current skills and the requirements needed for different target jobs. Identify the specific training, certification, or experience needed to meet the career goal.

Get detailed reports based on O*NET, education, and Federal Medical measurable standards. Partner with your allied education institutions for detailed custom curriculum reports. You can identify the needs and put together the plan in one step!

Reporting & Analytics

The foundation of all services and features is the quantifiable measurement and analytics:

Integrated reporting by each feature
The Data Management Integration allows for reporting by group
Projects may be managed in this system with detailed reporting and analysis of goals

The robust O*Net database and crosswalks , Learnovation ®, LLC proprietary databases, and the Education Common Core databases are the foundation of the growing data dictionary serving as the foundation for the growing anchors for reporting and analytics for agencies, industry, and education.

Career Portfolio & eResume

Help your users identify and show work samples that prove they have the skills needed for the job. Using our established proprietary evidence-based and electronic job board format, clients organize current and lifetime work samples to get a job or advance their careers and skills using O*Net and education standards.

Rubrics Generator

Easily add your own content into our LMS. Our Rubrics Generator makes sure your materials measure user outcomes and collect usable data for reporting. All content added integrates O*NET, education, and Federal Medical measurable standards.

Custom Content

Integrate proven Learnovation content into your training today! Specialized content for:

Workforce – Job Readiness & Life Skills
Reentry
Financial Literacy
Wellness & Nutrition
Study Skills
Parenting

The Technology

Easy-to-access SaaS (software as a service)
pay per play on a subscription model
NO client need for additional IT resources
Only requires a Web browser for all functions and access
Built on current O*Net / USDPL SOC codes and crosswalks

LMS

Our Learning Management System (LMS) is the ultimate easy-to-use client learning-based platform. Chunk your learning into units and playlists. All training reflects O*NET, education, and Federal Medical measurable standards.

less…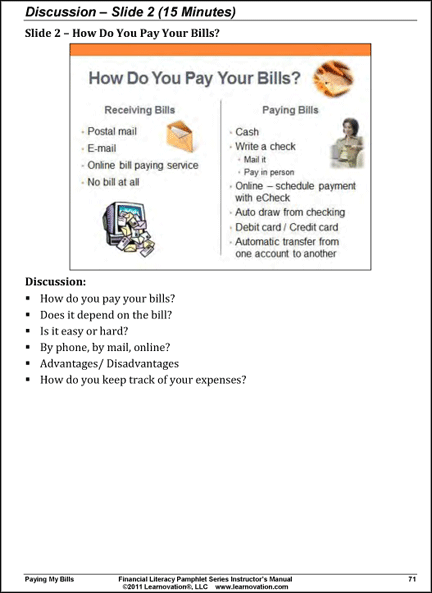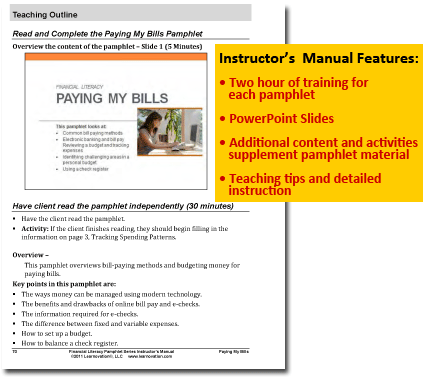 The companion Instructor's Manual adds 1-1/2 to 2 hours of detailed training for each topic with PowerPoint slides, additional content and exercises.
---
Pamphlet Series  are available in hard copy or online format
EASY TO USE…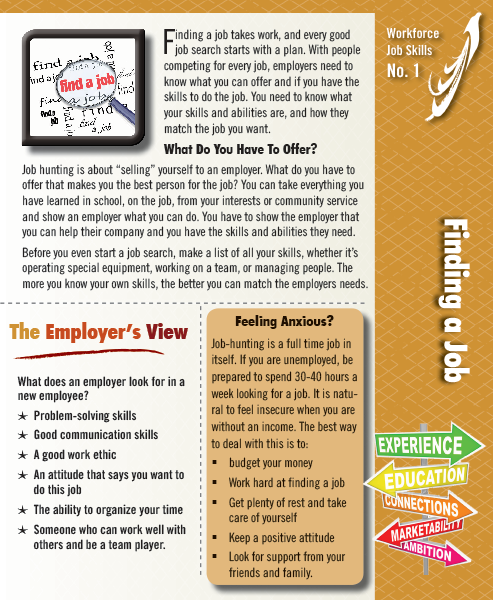 4-page pamphlets provide focused content on targeted key topics for the theme – perfect for individuals or groups
Individual pamphlets focus on key topics
Written at a federally mandated 9th grade level, but chunked for easy reading
One to two exercises per pamphlet.
ASSESSMENT DRIVEN…
Includes Pre and Post Assessment Documents
Check mastery of each topic with assessment documents, included for each pamphlet
Provides data tracking for client success and future grant writing
Pamphlet Series
Workforce Readiness
Reentry
Wellness & Nutrition
Financial Literacy
Study Skills
Parenting
Thanks to their design, these pamphlets are effective tools for individuals who need good information in a fast, easy-to-use format. Each pamphlet contains only the most important information on a single topic. Each pamphlet is:
Designed to be completed by each client individually

Four page layout – Not overwhelming, but easy to read and digest. Written at a 9th grade level

Tangible – something that belongs to the client

A reference tool for reinforcing the message

Each pamphlet comes with a outcomes assessment tool

Pamphlets can be completed in 30-45 minutes